Welcome!

Robert Weissberg M.D. has dedicated his career in medicine to the study and practice of healing the mind, body and soul. Dr. Weissberg is committed to the treatment of the entire individual and practices the integrated medical model that uses traditional western medicine with the best holistic and complementary practices.

Dr. Weissberg's ambition is to educate consumers about mind body medicine and personal development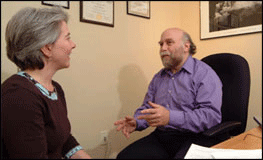 , integrating the best of western medicine and natural healing traditions to provide a fresh approach to contemporary health care needs. Based upon the principles and practices of holistic and preventive medical systems from around the world, Dr. Weissberg's practice provides tools to enable people to make choices that will enhance their physical, emotional and spiritual well being and promote healing. In addition, Dr. Weissberg presents educational programs to health care providers offering suggestions and solutions about how to develop integrated medical practices while managing our current healthcare delivery system.


From Patient.... to Partner
By collaborating together as partners, we find our way from treatment to healing. We make the journey towards wellness and integration.

The choices one makes at any moment create new possibilities for healing or illness. And, every illness presents an opportunity for healing, learning, and greater wellness. As a practitioner of the healing arts, I am a facilitator, catalyst, teacher, information source, and channel. In these roles, I join with my patient on the path to enhance wellness and healing. We work together to reach our goal: Ongoing Wellness.

I welcome the opportunity to communicate with other members of your health care team, and to coordinate your treatment with them. This approach assures you of the highest quality of professional service.
A Brief Note on Health Insurance: I do not currently participate with any insurance plan. I accept payment for consultation services in the form of check or cash, and provide the appropriate documentation for my patients to submit to their insurance companies for reimbursement.

Robert A. Weissberg, MD

Click below for latest news about: classes; speaking engagements; appearances; links to full text articles